Word
of the day
तबस्सुम
•
تَبَسُّم
Origin - Arabic
Proverb of the day
Meaning
less income at home is preferable to more abroad, dry bread at home is better than roast meat abroad
Word in
News
duniyaa ko Iran ke khilaf sakht

mauqif

ikhtiyar karne ki zaroorat
Dec 07, 2021 | The Inquilab
mauqif
मौक़िफ़
•
مَوقِف
Origin - Arabic
Meaning
stance, point of view, perspective
Quote of the day
aala darje ke lughat ke baghair zabaan ki buniyaadein mazboot nahin hotin.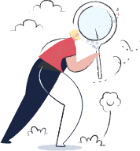 Singular

and

Plural

Origin - Arabic

learning by heart, committing to memory

Origin - Arabic

will, pleasure, discretion
Same Sounding

words

Origin - Arabic, Arabic

example, instance, precedent, equal to, like, resembling

Origin - Arabic

silver or gold

Origin - Sanskrit

always, ever, perpetually, constantly, continually

Origin - Arabic

sound, voice, ring, call, shout, cry
Support Rekhta Dictionary. Donate to Promote Urdu
The Rekhta Dictionary is a significant initiative of Rekhta Foundation towards preservation and promotion of Urdu language. A dedicated team is continuously working to make you get authentic meanings of Urdu words with ease and speed. Kindly donate to help us sustain our efforts towards building the best trilingual Urdu dictionary for all. Your contributions are eligible for Tax benefit under section 80G.
Donate Now